Wind Power Projects
Blackfeet Tribe Harnesses Wind Power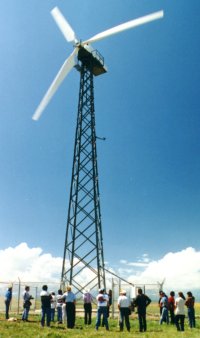 By Roy Nollkamper
As you approach Browning from any point of the compass, observe the skyline southwest of town and you'll see a new addition on the horizon.
Funded by a $225,000 Department of Energy Grant, the Blackfeet Community College, with support from local entities has completed construction of a 100-kilowatt wind generator.
According to project coordinator Marty Wilde, the Zond wind turbine is operational and interconnected with the electric "grid" through Glacier Electric Cooperative's distribution system.
Several studies have investigated the possibility of using wind to generate electricity on the Blackfeet Reservation to, but this is the first time a study has resulted in a completed generating project. It is also the only project of its type to be done on a reservation.
Wilde was responsible for writing the grant for the college and soliciting aid from several groups to support and complete the project. Contributions, either in kind or in cash, included $4,400 from the Blackfeet Tribe; $12,000 from Blackfeet Community College; $5,000 from Montana State University; $20,000 from Zond Systems, Inc., the generator manufacturer; $5,000 from Schmidt, Smith and Rush engineering; and $40,000 from Glacier Electric Cooperative. Much of the legwork and installation was completed by students from the college as part of class projects. All labor was done by local contractors and volunteers.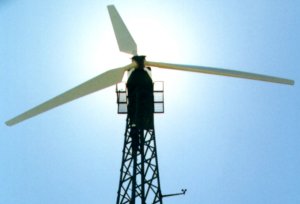 The wind turbine is capable of generating a maximum 100 kilowatts of power and is expected to produce between 200,000 and 300,000 kilowatt hours of power annually. Since the power is being generated into Glacier Electric's system, the college will receive credit for the electricity at the cooperative's wholesale rate.
The tower is 80 feet high and the turbine blades are 30 feet long. The generator operates in winds up to 62 mph. It automatically stops at wind speeds above that.
According to Wilde, who operates his own wind energy development firm, Wilde Coyote Development Co., the generator will be a precursor to a more extensive wind-powered generation facility that may involve 80 or more similar turbines. The manufacturer, Zond, Inc., a Danish company with wind facilities worldwide, specializes in equipment that will withstand high wind speeds and still generate electricity.
Roy Nollkamper is director of member services for Glacier Electric Cooperative Inc.
Glacier Electric Cooperative Inc. photos
Read more about renewable energy on Native American lands.
---