Wind Power Projects
Wind for Schools
In 2008, the U.S. Department of Energy selected Montana as one of six states to participate in the inaugural year of the Wind for Schools Program. The goal of the program is to engage rural communities in a discussion of wind energy while encouraging a knowledge and skill base for the industry. The program serves as a platform for teaching renewable energy principles and opportunities by providing schools with educational curriculum and access to state-of-the-art technology.
"This important program will not only provide wind energy for rural Montana schools, but will also educate tomorrow's leaders on the value and importance of this renewable energy source," said Governor Brian Schweitzer. "In addition, wind energy is American energy, produced by American workers. It decreases our dependence on foreign energy supplies and provides jobs here at home."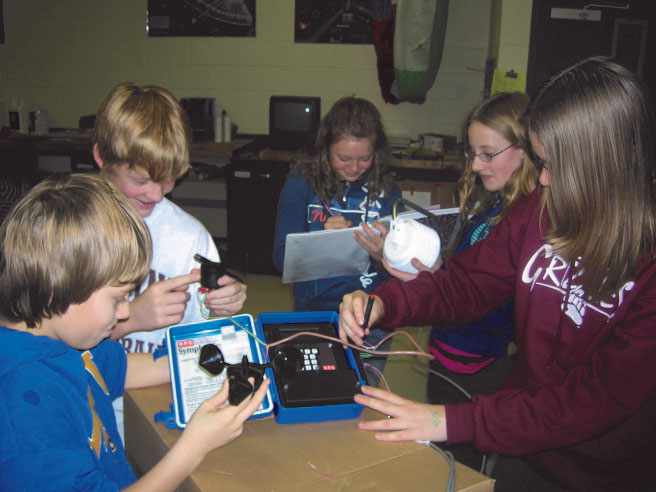 5th Graders Inspect an Anemometer in Livingston. Image: Western Community Energy
DOE also funded the creation of the Wind Applications Center at MSU-Bozeman to support Wind for Schools activities and develop related coursework for engineering students considering a wind industry career. The MSU-WAC has since become a regional center for wind energy training, expertise and outreach.
To supplement limited federal funding, NorthWestern Energy awarded a substantial grant to install demonstration wind energy systems in Cascade, Fairfield, Livingston, and Stanford school districts. The Montana Department of Environmental Quality allotted funds from Montana-Dakota Utilities Co.'s Universal Systems Benefits Fund to help support the new Wind Applications Center at MSU-Bozeman.
In addition, o ver a dozen K-12 schools throughout the state participated in wind energy education training and are now integrating the wind energy curriculum in the classroom.
For more information, visit these links:
---