NEW! Researchers Develop Lightweight Organic Solar Cell
Researchers at Georgia Institute of Technology are working to boost the efficiency of a new type of flexible solar cell, the organic solar cell, in which the inexpensive, flexible material that forms the cell is also able to capture the sun's energy and convert it into electricity. The Georgia Tech researchers built their solar cells by combining a 22-carbon molecule in which the carbon atoms form five rings linked together in a chain with C-60, a large soccer-ball-shaped carbon molecule also called Buckminsterfullerine, or "buckyballs." The resulting organic solar cells were able to convert 3.4 percent of the sun's energy into electricity, and expect to reach 5 percent in the future. More...
NEW! Paint-On Solar Cell Captures Infrared Radiation
New research at the University of Toronto (U of T) promises to yield new ways to capture the sun's infrared radiation, a part of the solar spectrum that's not captured by today's low-cost flexible thin-film solar cells. Using particles of semiconductor only 6 nanometers in size, the U of T team created a suspension of the particles in a solvent, much like paint, and then applied it to a surface to dry. The particles are so small that quantum effects determine the wavelength of light that they absorb, causing them to absorb infrared radiation, the invisible heat radiation given off by warm objects. The key to success was combining these particles—sometimes called "quantum dots"—with a solvent that would cause them to evenly disperse across the surface of a material. According to one reviewer of the work, the finding has the potential of eventually allowing flexible solar devices to boost their efficiency significantly, capturing 30 percent of the sun's energy. Today's flexible solar cells consist of a thin film of semiconductor material deposited on a flexible plastic substrate. More...
Montana Couple Powers Home Entirely by Solar, Wind Energy
While building their home at a rural location near the Crazy Mountains, Dan and Diane O'Neill faced a dilemma: bring power lines to their house, or generate power autonomously. Since it would have cost $75,000 to bring power to the house, they decided to invest in wind and solar energy technology. Spending about one-third of what it would have cost them to tie into the power grid, the O'Neill's installed a wind turbine and solar panels; their home is completely powered by renewable energy, and better yet, there is no bill at the end of the month. More...
Study: Worldwide Use of Solar Thermal Energy Underestimated
Estimates of the world's use of solar energy for heating water and buildings have long been hampered by a technical issue: the difficulty of converting the size of the installed solar energy collectors into an energy capacity that could be easily compared to other capacity figures. Last week, however, the International Energy Agency's Solar Heating and Cooling Programme and the world's major solar energy trade associations announced that they had agreed on a simple conversion factor for all types of solar thermal collectors: each square meter of solar collector, regardless of type, has the capacity to generate about 0.7 kilowatts of thermal heat. Applying that to worldwide estimates of installed solar collectors, the organizations found the world capacity to be nearly 70 gigawatts of thermal heat. That compares favorably with wind power, which has a global installed capacity of 23 gigawatts of electric power. More...
ASU Officials Explore Solar and Water Research Foundation
Arizona State University President Michael Crow recently presented a plan to create a new research foundation at the university dedicated to Arizona-specific issues that offer the potential for commercial growth. Sun is plentiful in Arizona, while water is not: developing these two resources could not only stimulate economic growth, but also help Arizona communities by conserving water and producing solar-generated electricity. The foundation would finance research efforts that could result in commercially-viable products or businesses. More...
San Francisco Giants to Begin Promoting Solar Energy Next Season
Sharp Electronics Corporation and the San Francisco Giants have established a unique partnership to promote solar energy. According to a Sharp press release, "California is the leading solar energy market in the U.S., and the San Francisco Bay Area is known in the industry as the nation's solar energy capitol." Teaming up with the Giants seems a natural fit, said Sharp. The solar promotions will begin with the 2005 baseball season. Read the full press release.
Augusta Senior Center Home to New PV System
Sunshine is even more welcome than usual these days in Augusta, where a new solar electric system installed on the senior center is converting sunshine into electricity. One of 10 systems being installed this year under NorthWestern Energy's Solar Meals for Seniors Demonstration Project, the 2-kilowatt PV system will reduce energy costs for the facility, freeing up funds for senior meals. More...
Baxendale Fire Station Boasts New PV System
Helena's Independent Record recently featured a story on Baxendale Fire Station's new solar electric system. The system, installed as part of the Fire Station Solar Electric Demonstration Project, not only generates electricity from the sun, but also provides backup power for emergencies. Six stations are receiving systems this year through NorthWestern Energy's Universal Systems Benefit (USB) funds, paid by all NorthWestern electric customers. A tour of the firehouse is part of the Montana Environmental Information Center's annual Solar Home Tour, which starts at 9 a.m. this Saturday, October 2. More...
Arizona Inventor Uses Solar, Geothermal for Water Desalination
A Phoenix-area inventor believes that he has an affordable and clean means of water desalination, which could have a major impact on the drought-plagued Southwest. The new technology, called a Thermal Hydraulic Engine, uses geothermal or solar energy to pressurize ocean water as a means of desalting the water. Since 75 percent of regular desalination costs derive from the energy involved, this new invention could revolutionize the process, making it much more affordable than previously considered. More...
Solar Visionaries Develop New Colorado Housing Projects
Solar Village LLC, a building developing company that focuses on sustainable practices and renewable energy, recently announced a $5 million 26,000 square foot project that is set to begin construction this fall in Prospect, Colorado. The three-story building will use passive solar heating and cooling techniques and super-insulation to conserve energy. The building will house commercial space and 16 apartments. More...
Arizona Utility Increases Solar PV Incentives
Arizona Utility Tucson Electric Power (TEP) has expanded its solar incentive program in 2004: customers have three choices for subsidized PV installation, with the potential to receive $4,500 towards the purchase and installation of a 1.5Kw system. Two of the three options include installation, maintenance and all include yearly inspects by TEP personnel. More...
California Drafts Million Solar Homes Initiative
California's Environmental Protection Agency has proposed a "Million Solar Homes Initiative," reports SolarAccess.com. The initiative would mandate solar on five percent of new homes by 2010 and 50 percent of new homes by 2020. It would also provide $1 billion in rebates over 10 years and increase net metering opportunities. California plans to fund the incentives with an electricity surcharge on utility customers. In addition to boosting solar generation, the policy would replace power production from heavy-polluting peaker plants, which run when energy demand is greatest, with energy from solar panels. The initiative has not been formally adopted yet by Governor Schwarzenegger. More...
Solar Booms in Central Oregon
The Bend Bulletin reports the region -- which receives more than 300 days of sunshine annually -- is seeing considerable growth in solar energy systems for homes and businesses. One local solar equipment dealer has seen sales jump 75 percent last year. Part of the growth in renewables has been attributed to tax credits and incentives offered by groups like the Energy Trust, a nonprofit that promotes sustainable energy. Last year the Energy Trust disbursed more than $1 million in rebates for more than 75 new solar systems and this year has slated more than $2.6 million for new solar electric and solar water-heating systems. "Our overall mission is to transform the market by getting more solar electric power users and bring down the cost so people can buy it on their own without incentives," said Energy Trust spokeswoman Jan Schaeffer. More...
Solar-Powered Elk Early Warning System Installed on Yellowstone Highway
People driving on US Highway 191, into Yellowstone Park—about 60 miles south of Bozeman—will hopefully have advance warning of elk crossing the highway, and thereby reduce the numbers of animal collisions. A solar-power early warning system was recently installed, consisting of 14 sets of radio-linked sensors that detect the movement of animals onto the stretch of highway. The Western Transportation Institute at MSU is overseeing the project, which in turn is funded by the Federal Highway Administration and 14 state transportation departments, including Montana and Wyoming. More...
Livingston Riding Arena Becomes State's Largest Off-Grid Installation
Powered by wind and solar energy, the Eagle Vista Ranch, near Livingston, MT, recently became the state's largest off-grid renewable energy installation. The prohibitive cost of connecting the arena to existing power lines initiated the search for alternatives, and the final cost for the wind and solar projects was 20 percent less than connecting to power lines. The wind generators and solar panels power all systems at the arena, including electrical, heating and water systems, horse stalls, office, restrooms, sound system and viewing rooms. More...
New York Olympics Bid Includes Wind- and Solar-Powered Stadium
New York City is bidding to host the 2012 Summer Olympics, and is including a renewable-powered stadium as part of its bid. The proposed New York Sports and Convention Center, as currently planned, will include 25,000 solar collector tubes for solar hot water, 100,000 square feet of solar photovoltaic panels, and 34 wind turbines. When not serving as an Olympic venue, the stadium will be the new home for the New York Jets, and during football games it will produce all of its electricity and 70 percent of its hot water from its renewable energy systems. Since the facility also includes a convention center, which uses a considerable amount of power, it will meet 40 percent of its overall electricity needs using solar and wind energy. If built, the facility will be located on Manhattan's West Side, on a platform covering the Long Island Rail Road storage yards. More...
California Power Authority Doubles School Solar Subsidy
The Solar Schools Program, begun in 1998, has made available an additional $2.5 million for the development of solar (PV) arrays for California public and charter schools. The program has a two-fold purpose: it helps reduce the operating costs of public education facilities while at the same time utilizes clean, renewable energy. Schools must meet minimum energy efficiency requirements to qualify for funding. More...
Application Deadline Extended for Solar for Seniors Demonstration Project
NorthWestern Energy and NCAT have extended the application deadline for the new Solar Meals for Seniors Demonstration project. As well, the application has been revised, requiring only a handful of questions to be answered. The project, new for 2004, will install solar electric systems on eight to 10 facilities that prepare and/or serve meals to seniors and that are also within NorthWestern Energy's electrical distribution territory. The systems will allow the facilities to generate some of their electricity from the sun, reducing energy costs and increasing the funds available for these food programs to operate.
In addition, each participating facility will receive an energy audit to identify measures or operating procedures that may further reduce energy costs should the participating facilities choose to implement the recommendations. Both the solar electric system and the energy audit are free to participating facilities. The project is funded by NorthWestern Energy's Universal Systems Benefits (USB) charge paid by the company's electric customers. For more information, see the project introduction and application. You can also request an application by calling toll-free (866) 723-8677. Applications will be accepted until all systems are awarded.
Open House Scheduled for New LEED House in Gardiner
Yellowstone concessioner Xanterra Parks & Resorts and the National Park Service will host a free open house on August 2, 2004 at 1 p.m. to unveil a newly built LEED (Leadership in Energy & Environmental Design) house in Gardiner, Mont. The house is on track to become the first building in Montana to receive the LEED certification from the U.S. Green Building Council. The open house will include displays with specific information about the building's construction, use of solar heat, solar electric power system, dual flush toilets, air-to-air heat exchanger, super-efficient propane boiler, indirect-heat water heater, energy-efficient appliances, water-saving fixtures, compact fluorescent lighting and construction waste recycling. Guests can also view a Toyota Prius from Xanterra's fleet of hybrid electric vehicles.
For more information, contact Mesereau Public Relations at 303-842-5271, or Xanterra Parks & Resorts at 307-344-5359 or by email.
Solar-Hydrogen Technology Begins Testing in Arizona
The Solar-Hydrogen Energy Corporation (SHEC), a Canadian-based energy company, has started testing its new solar-powered hydrogen generator. Hoping to capitalize on President Bush's Hydrogen Initiative, SHEC has developed what they call a "Solar Catalytic Hydrogen Generator", which uses concentrated heat energy to create hydrogen that in turn could be used for fuel cells. If successful, the converter would provide a pollution-free, renewable energy means for hydrogen production. More...
Solar Meals for Seniors Project Recruiting Participants
The new Solar Meals for Seniors demonstration project is targeting Montana facilities that prepare and/or serve meals to seniors. The National Center for Appropriate Technology (NCAT), which is administering the project, will install solar electric systems on eight to 10 facilities within NorthWestern Energy's electrical distribution territory free of charge. The systems will allow the facilities to generate some of their electricity from the sun, reducing energy costs and increasing the funds available for these food programs to operate.
In addition, each participating facility will receive a free energy audit to identify measures or operating procedures that may further reduce energy costs should the participating facilities choose to implement the recommendations. The energy audit is also free. The project, which is being funded by NorthWestern Energy's Universal Systems Benefits (USB) charge paid by the company's electric customers. For more information, see the news release and application. You can also request an application by calling toll-free (866) 723-8677. Applications are due June 18, 2004.
Solar Array Doubles as Protective Canopy in Desert Sun
Global Solar Energy, a renewable energy company, has designed a protective canopy for buses that is covered with solar cells, thus providing energy as well as shade from the hot desert sun. The canopy, installed in Antelope Valley, CA, provides shade for 20 buses and will produce 190,000 kilowatt hours of electricity annually. Because the buses normally become so hot in the afternoon that drivers must run the air conditioning for some time before passengers are allowed on, the canopy saves fuel as well as creates new energy. More...
New Mexico Incentives Attract Solar Energy Companies
New Mexico's sunny climate is not the only thing that attracts solar energy companies to the state. The Sandia National Laboratory and state renewable energy incentives are bringing out-of-state solar companies to New Mexico. Stirling Energy, a Phoenix-based company with offices in Nevada and California, recently relocated some of its employees to Albuquerque after Congress approved a million dollar budget request for solar energy technology at Sandia. More...
Researchers Announce Cheaper, More Efficient Solar Panel
Scientists at Lawrence Berkeley National Laboratory, the University of California and the Massachusetts Institute of Technology recently announced the successful development of a new solar cell that can convert up to 50 percent of solar energy. The new cell conversion rate is double that of standard silicon cells and costs less to produce; it may mark an important milestone in the search for cheap and efficient solar energy. More...
2004 USB Solar Demonstration Projects Announced
NorthWestern Energy's electric customers in Montana who are interested in generating their electricity from the sun may be eligible to participate in three demonstration projects announced for 2004.
Applications are being accepted by the National Center for Appropriate Technology (NCAT) for the 2004 Residential Solar Electric Demonstration Project, the 2004 Fire Station Solar Electric Demonstration Project, and Sun4Communities, a new project that expands on the previous Sun4Schools project by adding courthouses, city halls, and public libraries to the list of eligible buildings.
All the projects are funded by NorthWestern Energy's Universal Systems Benefits (USB) charge paid by the company's electric customers. For more information, see "NorthWestern Energy Offers Incentives for Renewable Energy Projects," which provides links to news releases, project information, applications, and more. Or call toll-free (866) 723-8677 to request an application. Applications are due April 23, 2004.
Get Your Free Renewable Energy Site Assessment!
NorthWestern Energy electric customers are eligible for free home and business site assessments for solar electric, solar hot water, and small wind generation. A renewable energy professional will come to your home or office to help you determine which form of clean energy may be right for you. By creating some of your own power, you will have the benefit of lower power bills and the satisfaction of contributing to a cleaner environment.
· How much sun is needed at your location to create usable clean electricity?
· Which natural power source investment will have the quickest financial return?
· How much wind is needed and what kinds of small wind generators are available?
· Are there incentives, grants, or tax breaks to help pay for the installation and equipment?
Each location is unique and the renewable energy professional will help you determine the best natural resource available to you. You also will receive a list of in-state dealers, installers, and suppliers of renewable energy hardware, to help you make the transition to clean energy as easy as possible!
To schedule your FREE site assessment, call Sage Mountain Center at 406-494-9875 or email [email protected]. Only a limited number of site assessments are available.
Solar Trough Plant Under Construction in Arizona
APS, a major electricity utility in Arizona, in cooperation with SolarGenix Energy, has begun construction on the state's first commercial solar trough facility, and the first to be built nationwide since 1988. The one-megawatt plant will be built in Red Rock, about 30 miles north of Tucson and will provide enough energy to power 200 homes. Solar trough technology uses mirrors to concentrate solar rays on a mineral oil solution, with heat levels between 250-550 degrees. The heat vaporizes a secondary fluid, which turns turbines and generates electricity. More...
California Vineyard Turns to Solar Energy for Power
A new 766-kilowatt photovoltaic system is turning sunshine into energy for a California winery. Rodney Strong Vineyards, located in Healdsburg, California, is generating enough electricity with the new system to power about 550 homes. Pacific Gas & Electric provided a $2 million dollar rebate to the vineyard, through the utility's Self-generation Incentive Program. More...
Solar Panel Help Wyoming Rancher Water Livestock
The University of Wyoming's solar power well initiative helped rancher Allen Fairborn when the creek on his ranch – which provided water for his cattle – dried up two years ago. Using two 75-watt solar panels and a water pump, Fairborn's livestock are now provided with drinking water from a 55-foot deep well. More...
New Studies Suggest Solar Power has Become Mainstream
Fifty years after the invention of the solar panel by Bell Laboratories, and 30 years after the Arab Oil Embargo proved the instability of the fossil fuel supply, solar energy is finally becoming utilized as a viable, affordable energy alternative. Energy experts attribute the recent surge in energy panel installation – particularly in the construction of new commercial buildings – to the declining cost of solar cell manufacturing. More...
New Mexico Governor Calls for Solar Energy Development
Gov. Bill Richardson's State of the State address on January 20 included a call for the development of large-scale commercial solar-energy projects. To accomplish this goal, the governor announced the creation of a task force charged with identifying potential sites, in hopes of starting construction by 2006. More...
Pentagon Renovation to Feature Solar Energy System
Renovation of the Pentagon after the attacks of September 11, 2001, will include two photovoltaic (PV) systems, together generating nearly 200 kilowatts of energy which will provide electricity and hot water to the U.S military headquarters. The building will also be retrofitted with new energy efficiency and conservation systems. More...
Researchers Develop More Efficient, Organic PV Cell
Siemens Technology researchers recently announced that it had developed a prototype photovoltaic (PV) cell produced from organic materials rather than silicon. The new PV cell is lighter, more flexible, and more durable than silicon varieties, allowing them to be printed on foil. Even more importantly, the organic PV cells are cheaper to manufacture than those made of silicon. More...
Building Retrofit Project in Billings to Serve as Passive Solar Model
The conservation group Northern Plains Resource Council (NPRC) has purchased an abandoned building on South 27th Street in Billings and plans to use it as a home office. The nonprofit NPRC says the building will "be a showpiece of passive solar heating and energy efficiency," including features such as high levels of insulation, solar electric and passive solar systems, and natural daylighting. The group expects the measures to save some $50,000 in energy costs, which it will use for education and lobbying. And with a still loftier goal, NPRC hopes to achieve Leadership in Energy and Environmental Design (LEED) certification for the building, joining just a handful of similarly certified buildings in the country. More...
Idaho Public School Home to New Solar Energy System
The latest project in the Solar for Schools Program was announced by the Bonneville Environmental Foundation (BEF), which oversaw the installation of a solar power system at a public school in Castleford, Idaho. The equipment and installation was cost-free for the school, thanks to the BEF Solar for School Program. More...
Solar Energy Could Alleviate Power Grid Collapse
Researchers at the University of Wisconsin-Madison are developing a 'microgrid' of local power generators that would be able to disconnect from the central grid in the event of a major power failure. The microgrids would be powered by solar and fuel cells. More...
Solar Cell Company Aims to Cut Costs by Cutting it Thin
When it comes to solar cells, thin is in, at least for those made from crystalline silicon. The material cost of crystalline silicon is the most expensive part of these solar cells, and a thinner cell uses less material and is, therefore, cheaper. The trick is to find a way to cut paper-thin slivers of silicon without wasting too much time, energy, or material. And about a year ago, Australia's Origin Energy claimed to have accomplished that trick; in December, Origin took a crucial step forward with that process when it announced it is building a $20 million plant to produce solar modules using its ultra-thin "Sliver" solar cells. Construction of the plant is now underway in Adelaide, South Australia, and Origin expects the modules to be commercially available in January 2004. The company claims the plant will start production with the capability to produce 5 megawatts of solar modules per year, but can be expanded in the future to as much as 25 megawatts per year. According to Origin, its solar cells are less than 70 microns thick and convert 19.5 percent of the solar energy that hits them into electricity. More...
California to Host World's Largest Photovoltaic System
TrueSolar Solutions, LLC will build a 5-megawatt solar photovoltaic power system -- the largest of its type in the world -- in southern California's Mojave Desert next year, according to Southern California Edison (SCE). The utility will buy all the power produced by the system under an agreement approved by the California Public Utility Commission in early December. TrueSolar Solutions will work with Global Solar Energy to begin construction of the system in early 2004. The solar power plant will be located on a 40-acre site near Barstow, about 80 miles northeast of Los Angeles. More...
Marine Corps Base Installs Large Solar Power System
One of the largest solar power systems in the country is now online at a U.S. Marine Corps base in Twentynine Palms, California. The Marine Corp base installed a 1.1-megawatt photovoltaic system, which will provide about 10 percent of the base's electrical needs. The project earned a $4.5 million incentive award from the state's Self Generation Incentive Program. More...
Oregon Professor Turns to Solar, Energy Efficiency to Green Up Campus
University of Oregon Professor GZ "Charlie" Brown has been steadfastly generating new ideas--from innovative architecture to energy-efficient designs--since he began teaching at the school. As a result, the university overcome a number of sustainability problems. In 2003, Brown focused on installing solar panels to help supply energy for pool heating and domestic hot water. University officials subsequently decided to install solar energy systems all over campus. More...
Largest Northwest Industrial Solar Installation Underway in Oregon
Kettle Foods, based in Salem, Oregon, now boasts the largest industrial solar installation in the Pacific Northwest. The plant has a new 114-kilowatt photovoltaic system that produces about one-fourth of the company's electricity demand during peak hours. The system will produce an estimated 3,000,000 kWh over the next 25 years, and reduce carbon dioxide emissions by some 1,500 tons. The Energy Trust or Oregon provide $112,000 toward the cost of the system. More...
ASES National Conference Slated for July 2004
The American Solar Energy Association (ASES) will hold its annual conference, SOLAR 2004, July 11-14 in Portland, Oregon. The conference will be organized under the theme "A Solar Harvest: Growing Opportunities." ASES has issued a Call for Papers for the event, as well as a Call for Participation for special invited sessions on a variety of renewable energy sources. More...
Oregon Issues RFP for Solar Energy Demonstration Projects
The Energy Trust of Oregon is providing a special opportunity for public and nonprofit organizations to propose solar electric demonstration projects of 5 kilowatts (kW) or more. Substantial incentives are available to successful proposals to offset system and implementation costs. Responses are due November 28, 2003. Projects must be completed by June 1, 2004. The Request for Proposal is available online, or by calling the Energy Trust at 1-866-368-7878.
First PV Installer Exam Completed
Some 100 candidates sat for the first Photovoltaic (PV) Installer Certification Exam on October 25. The exam was given by the North American Board of Certified Energy Practitioners (NABCEP) at 14 sites around the country, including Montana. Applicants for the exam were from 30 states around the country. According to NABCEP, a candidate must meet one of seven combinations of training and experience in order to sit for the exam. The National Center for Appropriate Technology in Butte hosted the Montana exam. The next exam will be on April 17, 2004. More...
First Solar Hot Water System Installed Under NWE's USB Rebate Program
The first system installed under NorthWestern Energy's Solar Hot Water USB rebate program is complete at the home of Jerry and Francie Hargrove. The system, with 54 square feet of solar collector, heated 80 gallons of water to 128°F on October 20. The new system has the advantage of fail-proof freeze-protection system and far greater efficiency than the older system installed by the Hargroves years ago. Inside the house are a heat exchanger, circulation pumps, and an 80-gallon solar storage tank. The solar system is designed to serve as a pre-heater to the existing domestic water heater. On October 20, however, it is unlikely that the existing water heater turned on. The system was installed by the homeowners.
Ryegate Solar Home Featured in Billings Gazette
The solar home of David Wallace was recently featured in the Billings Gazette. The article describes the features of Wallace's home, including its high energy efficiency, its solar energy system, and Wallace's future plans to incorporate a wind energy system into the home. The article ran as part of the recent tour of solar homes in the area. More...
Scientists Make Discovery that Could Dramatically Reduce Cost of Solar
CNN recently reported that STMicroelectronics, Europe's largest semiconductor maker, has discovered a new way to produce solar cells--one that will considerably reduce costs. The company says a single produced watt should cost as little as $0.20, compared with the current $4. More...
Fact Sheet Offers Simple Ways to Bring Solar to Your Community
A new one-page fact sheet from the National Renewable Energy Lab (NREL), titled Getting to Clean and Green, offers five simple and practical steps you can take to bring more solar into your community. Find out how!
All-Solar Community in Arizona to Feature 487 Off-Grid Homes
A new housing development near Kingman, Arizona, lacks one feature most developments take for granted: power lines. Every "ranchette" in the 487-home community will be equipped with a 1.65-kilowatt solar power system; when all the homes are built, the community will have a combined solar power capacity of just over 800 kilowatts. The homes use propane to fuel their furnace, refrigerator, and range and oven, and also include electric water heaters that can be upgraded to propane. The GreenWood Ranch Estates held its grand opening in late August. More...
Sun4Schools Project Conducting New Installations
NCAT's Sun4Schools project is currently installing solar electric systems on five schools in Montana. These latest installations bring the total number of photovoltaic systems Sun4Schools has placed on middle and high schools in the state to 27. The schools where systems are currently being installed in the fourth round of Sun4Schools are Augusta Public School, Duvall Junior High in Deer Lodge, Roundup High School, Sheridan High School, and Willow Creek School.

Sun4Schools is funded by NorthWestern Energy's Universal Systems Benefits (USB) charge paid by the utility's electric customers. Under the program, schools in NorthWestern Energy's service territory have had the opportunity to apply for a free solar electric system during each of the past four years. In addition to being located in NorthWestern Energy's territory, the schools must have reasonable solar access and provide information on how the school would use the system for student education.

Under Sun4Schools, NCAT installs grid-connected solar electric systems capable of generating two kilowatts of electricity on the roofs of the schools selected. The systems provide some of each school's electricity. Any excess electricity produced by the systems will be fed into the utility grid through a net metering agreement, to serve other customers. Sun4Schools also furnishes each participating school with a special solar energy curriculum that has been developed by NCAT to correspond with the project. In addition, participating schools are able to monitor their system's performance on the Internet on a weekly basis.

Looking for Solar Financing and Incentives?
Montanans looking for help in financing a solar energy system have lots of choices, including loans, tax breaks and grants. Financial help is also available to homeowners and businesses who want to save energy—the first step in making a building worthy of a solar energy system. The Montana Solar Initiative website is a great place to look for information on where to get help with financing.
Six Myths about Solar Energy Debunked
Solar electric systems are an important part of the whole-building approach to constructing a better home or commercial building. Although these systems have delivered clean, reliable power for more than a decade, several myths have evolved that confuse the real issues of using solar electricity effectively. Among them: Solar electricity cannot contribute a significant fraction of the nation's electricity needs or on the other end of the spectrum that solar electricity can do everything—right now. This and other myths are debunked in a U.S. Department of Energy brochure, Myths about Solar Electricity.
Lincoln Electric Demonstrates Solar Energy System at Co-op Office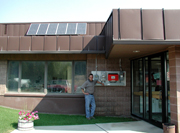 Lincoln Electric boasts a new grid-tied solar power system. The Cooperative's new solar demonstration project follows recent action by the board of trustees who approved a new policy that allows members to interconnect their small renewable energy systems to the utility grid. The Cooperative's solar demonstration project has three goals:
Educate members about the advantages and disadvantages of small renewable energy systems.
Familiarize the Cooperative with safety and reliability issues of interconnected renewable energy systems, and how they impact the existing distribution system.
Demonstrate how renewable energy systems can be tied to the electric grid by taking advantage of the Co-op's new net metering policy.
Read the full press release.