BOOKSTORE
Most of the books in our bookstore, plus many others not listed, including how-to manuals, can be ordered directly from Montana renewable energy dealers.
Solar

Periodicals

Home Power
The Hands-on Journal of Home-made Power
Written by and for people who appreciate independence from the utility grid, Home Power prides itself on giving its readers practical information about home-scale renewable energy technology technologies. Back issues can be purchased in both paper and CDROM format. Subscriptions (1 year/6 issues) are $22 (second-class mail).
Solar Today Magazine
Energy Choices for a Cleaner Environment



SOLAR TODAY is an award-winning bi-monthly magazine published by the American Solar Energy Society. It covers all solar technologies, from photovoltaics to climate-responsive buildings to wind power. Regular topics include building case studies, energy policy and community-scale projects. Subscriptions are $29 a year. The American Solar Energy Society (ASES) is a national organization dedicated to advancing the use of solar energy for the benefit of U.S. citizens and the global environment. ASES promotes the widespread near-term and long-term use of solar energy.
Books
2007 Solar Energy: Complete Guide to Solar Power and Photovoltaics
US Department of Energy
2 CD ROM set
This up-to-date and comprehensive electronic book on two CD-ROMs presents an incredible and totally revised collection of important documents and publications about solar energy, solar heating and lighting, solar concentrating technology, and photovoltaic (PV) solar power cells. Encyclopedic coverage of every practical aspect of solar power, heating, electricity, and research is thoroughly covered in this incredible collection!

From Space to Earth: The Story of Solar Electricity
By John Perlin
Hardcover, 250 pages (September 1999)
ISBN: 0937948144
Publisher: Aatec Publications

From Space to Earth: The Story of Solar Electricity tracks the evolution of photovoltaics from its shaky nineteenth-century beginnings, to its high-visibility success in the space program, to its current increasing – and largely unrecognized – position as an indispensable and versatile power source. After years of painstaking research, John Perlin tells the true and amazing story of the technology and of the truly amazing individuals who brought it to light. Special emphasis given to solar electricity's impact on the developing world, electrifying the non-electrified, and on the developed world, via building-integrated photovoltaics.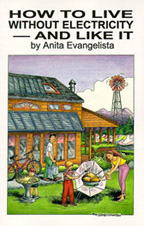 How to Live Without Electricity – And Like It
By Anita Evangelista
Paperback, 147 pages (November 1, 1998)
ISBN: 0966693213 ;

How to Live Without Electricity – And Like It could perhaps be more appropriately called How to Live Without Being Hooked Up to Commercial Electrical Utilities, Save Money, and Like It. Whether you seek to be completely "off the grid" or simply prepared for occasional or frequent power outages, you'll find the concrete information you need. Among a number of other ways to be independent of the local utility company, learn how to monitor your current power usage accurately; convert to solar energy—both passive and active systems; pump and store potable water; refrigerate food without electricity; and generate electrical power independently and charge batteries. How to Live Without Electricity is a surprisingly non-technical book, easy to read and understand, with many diagrams and helpful illustrations. It also includes a list of the best resources for ordering the products and materials discussed and a bibliography of additional books on cooking, heating, and cooling with alternative sources of energy.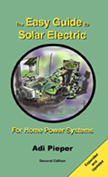 The Easy Guide to Solar Electric: For Home Power Systems
by Adi Pieper, Barbara Johnson (Editor), Mark De Frencis (Illustrator)
Paperback - 214 pages Reprint edition (September 1999)
A D I Solar Electric; ISBN: 0967189101

The Easy Guide to Solar Electric is a simple and entertaining introduction to solar electric. It is an introduction to basic electrical terms, components of a solar system, practical tips with names and numbers of product manufacturers. It comes with index, glossary and charts. The book is an educational tool for those interested in the subject as well as those who plan to build their own solar home.

The New Independent Home: People and Houses That Harvest the Sun
by Michael Potts
Paperback - 350 pages (October 1999)
Chelsea Green Pub Co; ISBN: 1890132144

It took me 20 years to get ready to write my book - tinkering, visiting, figuring arcane technology out - and then another 6 years to get the book right. Independent homesteaders offer us all lessons on using our energy better. On-the-gridders waste half the energy they buy, while we who carefully harvest every electron, teaspoon of water, and therm of heat, strive to waste as little as possible. This work reconnects us with the planet in unexpected ways. There are important lessons in my book about phantom loads, free energy sources, and small habit changes that have helped many "on-the-gridders" reduce their energy bills by 30 percent - 60 percent.



Achieving Energy Independence - One Step at a Time
by Jeffrey R. Yago
Paperback - 190 pages (November 15, 1999)
Dunimis Technology; ISBN: 0966933605

A must have first text for any homeowner wanting to install a back up power system for their home or home business. Addresses new ways to prepare for power outages including Y2K, brownouts, storm outages, and rolling blackouts. Step by step guide to become independent of the utility grid. Answers all installation questions about solar photovoltaic systems, generators, battery inverters, wind turbines, and battery banks, including wiring diagrams and safety issues.



The Passive Solar House (Real Goods Independent Living Books)
by James Kachadorian
Paperback - 220 pages (June 1997)
Chelsea Green Pub Co; ISBN: 0930031970

This book offers a technique for building homes that heat and cool themselves in a wide range of different climates, using ordinary building materials available anywhere and with methods familiar to all building contractors and many do-it-yourselfers. A formerly patented design for author James Kachadorian's Solar Slab heat exchanger is now available for the use of anyone motivated by the desire to build a house that needs a backup furnace or air conditioner rarely if ever. This is a building book for the next century. Applicable to a diversity of regions, climates, budgets, and styles of architecture, Kachadorian's techniques translate the essentials of timeless solar design (siting a home in harmony with nature, using windows as solar collectors, achieving year-round comfort by balancing good insulation with healthy supplies of fresh air) into practical wisdom for today's new generation of solar builders.


Passive Solar House Basics
by Peter Van Dresser
Paperback - 136 pages (April 1996)
Ancient City Pr; ISBN: 0941270904
Anyone who has visited a solar adobe home on a cold winter day has felt the warmth and comfort of its natural radiant heat. Passive Solar House Basics lays out in plain language what an owner-builder and designer will need to know about siting, designing, constructing, and living in a solar adobe home. Van Dresser's text and pictures provide a beginner's course in adobe construction and passive solar heat collection, including suggestions for natural heat circulation and heat storage in thermal mass. Included are sample house plans, ideas for solar hot water heaters, and plans-to-scale for solar crop dryers. The simple means he has developed for economically harnessing the energy of the sun in an energy-efficient home are easily within the grasp of the average home owner, home builder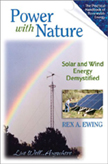 Power with Nature: Solar and Wind Energy Demystified
by Rex A. Ewing
Paperback - 256 pages
PixyJack Press, LLC; Illustrated edition (April 12, 2003); ISBN: 0965809854
Practical, hands-on information about grid-connected and off-grid systems, plus sections on solar, wind and micro-hydro power. Ewing also explains batteries, inverters, charge controllers and other components of a renewable energy system. The book delves into passive solar techniques, solar hot water heating, and options for pumping water.
The Evolution of an Independent Home -
The Story of a Solar Electric Pioneer
by Paul Jeffrey Fowler
The Evolution of an Independent Home is a coming of age tale of independent living. Jeffrey Fowler went from neophyte to one of the country's experts on solar electric homes. Evolution of an Independent Home tells that story and more by Fowler's recounting the creation of his homestead. If Walden Pond self-sufficiency with computers and hot showers on demand appeals to you, it is a must read.
Solar Electricity, 2nd Edition
by Tomas Markvart (Editor), Thomas Markvart
Hardcover - 256 pages 2nd edition (May 12, 2000)
John Wiley & Sons; ISBN: 0471988529
Other Editions: Paperback

For graduate and advanced undergraduate students in power or mechanical engineering or physics, explains the history, the present, and the promise of solar energy, focusing on the practical aspects of photovoltaics. The topics include geographical considerations, energy conversion, environmental impacts, and advanced systems. Annotation copyright Book News, Inc. Portland, Oregon. This text refers to an out of print or unavailable edition of this title.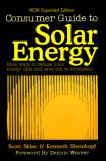 Consumer Guide to Solar Energy: Easy and Inexpensive Applications for Solar Energy
by Scott Sklar, Kenneth Sheinkopf (Contributor)
Paperback - 188 pages 2nd edition (October 1995)
Bonus Books; ISBN: 1566250501

This book gives an introduction to some of the ways solar energy can be used in everyday applications. If you have no knowledge of solar energy this is an OK place to start. It covers everything from solar water heating to solar ovens.



The Independent Home: Living Well With Power from the Sun, Wind, and Water (A Real Goods Independent Living Book)
by Michael Potts, John Schaeffer (Designer)
Paperback - 224 pages (October 1993)
Chelsea Green Pub Co; ISBN: 0930031652

Whether you already own a home or plan to build one, The Independent Home will show you how to transform it into an energy-efficient, comfortable, self-sustainable home of the future - right now. Michael Potts's home has been featured on the ABC evening news as an example of the sane approach to simple living; he demonstrates how one can live well, save money, save resources, and still retain modern conveniences and comfort. The Independent Home proves that it is not necessary to live in mud-floored huts and cook brown rice over a campfire to go back to the land.

The New Solar Electric Home: The Photovoltaics How-To Handbook
by Joel Davidson
Paperback edition (July 1987)
Aatec Publications; ISBN: 0937948098

This book has been around for a long time. When it first came out, in 1987, it was the best book available. Unfortunately, it has not been updated since then, even though it has been reprinted several times. It has excellent basics for planning and designing a system, but much of the technology illustrated is outdated. With an update, this could be the best book in the field.
The Solar Electric House
Energy for the Environmentally-Responsive, Energy-Independent Home
by Steven J. Strong, William G. Scheller (Contributor)
Paperback - 288 pages 2 edition (January 1994)
Chelsea Green Pub Co; ISBN: 0963738321



The Fuel Savers : A Kit of Solar Ideas for Your Home, Apartment, or Business
by Bruce Anderson (Editor)
Paperback - 84 pages 2 edition (August 1991)
Morning Sun Pr; ISBN: 0962906905
The Fuel Savers is truly solar made simple – a friendly guide to solar energy for homes with lots of pictures and good advice. Bruce Anderson's recommendations make sense for the pocketbook and for the environment. – Eric Heitz, The Energy Foundation

Cooking With the Sun : How to Build and Use Solar Cookers
by Beth Halacy (Contributor), Dan Halacy
Paperback - 114 pages
Reprint edition (May 1992)
Morning Sun Pr; ISBN: 0962906921
Here's a way to cook food without the use of fuels and with no smoke or fumes – in your back yard, in woods where you can't build a fire, and while camping or traveling. Not only do the authors show you how to build your own solar cooker simply and inexpensively, with detailed plans and suggestions for materials, they devote a good proportion of the book to yummy-sounding recipes, too! Solar cooking is easy, free, and clean, and you can build a solar oven and a solar hot plate with a few dollars' worth of materials and hand tools. Cooking With the Sun gives simple directions for both, along with a host of recipes – pizza, chicken, pecan pie – that will convince you that low-tech is the way to go. Endorsed by the American Solar Energy Society and the National Renewable Energy Laboratory.
The Solar Electric Independent Home Book
By New England Solar
Paperback (May 1991)
Fowler Solar Electric; ISBN: 1879523019
Easy to read and directed to the person designing and building a solar electric home. Gives clear and detailed hands-on discussion of the topics outlined in this catalog. Help with decisions. Lots of pictures and diagrams for "do-it-yourself."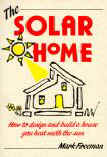 The Solar Home: How to Design and Build a House You Heat With the Sun
by Mark Freeman
Paperback - 240 pages (March 1994)
Stackpole Books; ISBN: 0811724468


Sun, Wind, and Light: Architectural Design
by G. Z. Brown, Mark Dekay, D. Barbhaya
John Wiley & Sons, Publisher
A text for architectural design studio courses, geared to inspire design ideas and to help students understand the energy consequence of design decisions. Concentrates on the analysis of sun, wind, and light resources of a particular site and climate. Also offers design strategies organized by building groups, buildings and building parts, and provides strategies for supplementing passive systems. Includes over 200 beautifully rendered architectural illustrations.
Solar Today Magazine - Energy Choices for a Cleaner Environment



SOLAR TODAY is an award-winning bi-monthly magazine published by the American Solar Energy Society. It covers all solar technologies, from photovoltaics to climate-responsive buildings to wind power. Regular topics include building case studies, energy policy and community-scale projects. Subscriptions are $29 a year. The American Solar Energy Society (ASES) is a national organization dedicated to advancing the use of solar energy for the benefit of U.S. citizens and the global environment. ASES promotes the widespread near-term and long-term use of solar energy.