Geothermal Resources
Fairmont Taps Geothermal Resource
to Reduce Heating Energy Costs
Fairmont Hot Springs Fairmont Hot Springs, 15 miles west of Butte, is known throughout the Northwest for its generous pools. The resort, which is open year around, has two Olympic-size swimming pools and two soaking pools, one of each located indoors and outdoors.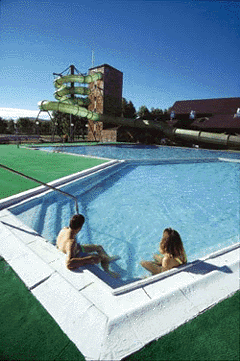 The pools are fed by a virtually unlimited supply of 157-degree natural hot springs water, cooled to various temperatures for comfort and enjoyment. The large indoor and outdoor pools are kept at between 89 and 92 degrees F, while the smaller indoor and outdoor pools are kept between 100 and 105 degrees F. A 350-foot enclosed waterslide also uses hot springs water to provide guests with a wet and wild ride into the outdoor pool.

Before 1984, Fairmont drew its hot water from artesian wells that bubbled out of the ground at 125 degrees F. That water heated the building, with a gas booster for winter heat.
Water from the artesian wells still supplies the swimming and soaking pools. Another 600-foot well drilled in 1984 also supplies hot water to the facility. That well is fitted with a 50hp submersible pump that delivers water at 170 degrees F at the rate of 150-180 gallons per minute. The water is pumped from the well house to the resort through a four-inch fiberglass pipe and deposited in a collection pit.
Some of that water is used to heat resort buildings directly. Return water from the system goes into a second collection pit, which in turn feeds the steam rooms and pools and preheats domestic hot water for the resort's showers, kitchen and laundry, providing an estimated savings of $5,000 a month in heating costs, according to Vern Cook, maintenance supervisor. Visit the Fairmont Hot Springs website.
Fairmont Hot Springs photo