Solar Power
Manhattan Family Uses Sun, Water
to Achieve Near Grid Independence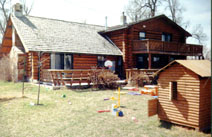 A Montana homeowner has dramatically reduced his reliance on NorthWestern Energy through conservation and alternative energy systems.
Edward E. Roe of Manhattan began researching alternative energy in January 1999. At the time, his family of five was using approximately 33 kWh of electricity per day. The Roes' consumption currently averages 2.5 kWh per day of NorthWestern Energy-supplied electricity.
Roe approached several local dealers/installers of alternative energy systems to determine what might fit his family's needs. He received bids on wind, solar, and hydro systems, from which he selected Independent Power Systems of Bozeman to install a combined solar/hydro system.
Since alternative energy systems do not produce as much output as the Roe family was consuming, Ed first needed to take some conservative measures. He replaced all light bulbs with compact fluorescent bulbs and replaced both his electric dryer and range with natural gas appliances. He also replaced a 30-year-old freezer with a new, energy-efficient model.

Next he installed the system. Two sets of 12 100-watt Siemens photovoltaic panels were installed on Zomeworks Universal Tracker mounts. Two 24-volt submersible generator turbines by Aquair were mounted on a cantilever pole and immersed in the ditch running behind the home. All components were connected to a DC-disconnect switch, a Heliotrope CC60 charge controller and 16 L-16 Trojan 6-volt batteries, located in a heated, vented room Ed built into the family's freestanding garage.
Power is transferred to two Trace sine wave inverters (SW4048 – 4000 watts, 48 volts, 60 amps), and on to a power subpanel that feeds the Roe garage on a separate line. That feeds a transfer switch at the house so the home can be operated on either solar/hydro or grid power.
A two-way line runs from the NorthWestern grid to the garage in order to recharge the batteries if solar/hydro energy is insufficient to meet the family's needs. The same line feeds power back into the NWE grid when the Roes are generating more than they need. This "backfeed" turns their meter back to zero but not beyond under the terms of a net metering agreement with the utility.
Roe has an anemometer installed at 46 feet to collect wind data to determine whether wind generation is a viable option to meet the family's remaining electrical needs. Wind generators require an average of 7-9 mph wind speed to begin operation. Where the Roes live, the average wind speed is only about 2-3 mph. Until wind generators become even more sensitive or the anemometer can be tested at a higher elevation, wind power is not an alternative for the Roes. However, at several other sites in the valley, wind generators are producing power. Each home site has to be evaluated for its particular needs and power sources
Read more about Roe's home in the Energy Activist, a publication of the Northwest Energy Coalition.
Independent Power System photos