Young Scientists from Sunburst
Win NCAT Sustainable Energy Award
The science project chosen for the NCAT Sustainable Energy Award in 2003 "is an excellent example of international cooperation," according to the engineer who chose the winner.
The project, titled "The Designing, Building, and Testing of a Portable High Output Hydrogen Electrolysis Unit," was the work of two North Toole County High School students, one a U.S. citizen and the other Canadian.
Dan Cox is a senior from Kevin, Montana, while Cody Ford, a junior, is from Coutts, Alberta, Canada. Both attend North Toole County High School in Sunburst, a small town about 25 miles north of Shelby and eight miles south of the U.S.-Canadian border. The two built and tested a hydrogen generator.
Sustainable Energy Award judge Ray Schott, an NCAT engineer and renewable energy specialist, said he was impressed by the presentation that Cox and Ford made at the State Science Fair in Missoula April 7.
According to the young scientists, hydrogen should soon be the fuel of choice since it can be used in almost anything that requires a combustible fuel.
The two used a process of electrolysis to prove their point. By passing electricity through carbon (cathode) and aluminum (anode) electrodes with a sodium sulfate/distilled water solution to complete a circuit, they were able to separate and produce hydrogen and oxygen. Sodium sulfate is used to ionize the water without producing harmful by-products in the electrolysis process.
"For us to accomplish this on a usable scale we had to design, test, and build our own prototype," the pair said. "We were able to achieve this, but it took a couple of tries to get it right. The first prototype failed due to the fact that the electricity from the electrodes was not able to flow quickly between the cathode (negative) and anode (positive) side of the apparatus with ease and with speed."
The second prototype, based upon the Hoffman Apparatus, an electrolyzer, overcame this problem, enabling electrolysis to occur on a level that allowed them to produce relatively large amounts of high quality hydrogen.
They took the prototype electrolyzer to the Lethbridge Research Center in Lethbridge, Alberta, Canada, where they tested the device. With the help of a lab technician, they were able to determine the quality of the prototype's hydrogen output.
Samples of the hydrogen produced were introduced into a gas chromatograph. The gas chromatograph test showed that the hydrogen they were producing was 99.1% pure. They also tested pure hydrogen from the research lab so they could compare results. The "pure" hydrogen that ran through the gas chromatograph came out 99.8% pure.
They hypothesized that dissolved gases in the solution used in the prototype most likely caused the difference in quality between the two samples.
"In order to achieve hydrogen near to 99.8% pure or higher," they suggest, "the water solution would have to be degassed prior to use in the prototype."
They further suggest that since the hydrogen produced by the prototype is so free of impurities, it should be usable in fuel cells and internal combustion engines without causing damage to the fuel cell. The almost-pure hydrogen would also produce cleaner emissions when burned in an internal combustion engine.
They suggest improvements in the prototype design to make it work better.
One improvement would be to use threaded fittings so those fittings could be changed if they are damaged. Threaded fittings would increase the probability of leaks and more care would be needed to keep the chambers airtight.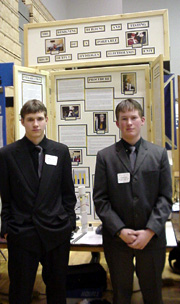 "However, we believe the benefit of being able to fix different parts and not having to replace large expensive parts probably outweighs the difficulty of preventing leaks," the young scientist/engineers said. "Another modification could be to use aluminum bolts that do not corrode. These are modifications that are simple and cheap to implement."
If all of these changes were made, the device would be inexpensive, easy to assemble and relatively simple to fix.
"This device could easily be a revolutionary advancement in the future of many fields, namely the automotive and power industries that would greatly benefit from a significantly cleaner energy source," the pair said.
During their presentation, Cox and Ford talked about using the concept in automobiles to produce hydrogen to fuel a conventional internal-combustion engine. Asked how they thought the battery bank used to energize the electrolyzer would be charged, they stated that the vehicle would have to use regenerative braking and would charge when going downhill. It most likely would be covered with solar electric cells.
Cox and Ford also won the U.S. Navy/Marine Corps Naval Science Award, U.S. Army Certificate of Achievement Award, and Grant Award (Team) First Runner-up.
The Sustainable Energy Award consists of a $100 savings bond and a certificate of achievement to recognize a student's effort.
Unlike last year when he could not justify giving one of the awards to a high school project, Schott said he did not find a middle school project good enough to receive the award at this year's fair.
He awarded the two Sustainable Energy Awards to Cox and Ford.
Altogether, 24 middle school projects were considered for the top award in Division 2, which covered solar heating concepts, solar electricity, hydropower generator design, wind machine blade design, monitoring sites for wind power, thermal energy storage, fuel cells, electrolysis and steam power.
"Although many of the middle school projects evaluated were at parity or slightly below the high school projects, they all had gaps in the scientific method, their research, and a lack of extended knowledge about their projects," Schott said.
Of the nine Division 1 projects determined as potential candidates for the High School Sustainable Energy Award, one did not attend the science fair. Of the eight other projects, two dealt with hydroelectric generation systems, one compared homemade wind machine blade designs, one used static electricity to light a bulb, one used a PV cell to energize a model fuel cell, one constructed a solar collector to heat various floor constructions, and one did a written report on hydrogen as an energy source.
"In general," Schott said, "the projects I evaluated could have been improved by having a better understanding of the scientific method to experimentation and by getting some guidance at the start of the project and some useful hints at putting together the formal presentation."